17 Mrz, 2014
Bruce Lindsay's neunter Beitrag zur Lancia-Typengeschichte
Bruce Lindsay zur technischen Geschichte von Lancia. Über die Flaminia, welche das schwere Erbe der Aurelia auf mehreren Ebenen anzutreten hatte, alles sollte einfacher, billiger und trotzdem besser werden …
Few enthusiasts for classic motor vehicles are aware of the Flaminia in any of its guises. And even Lancisti here and elsewhere may have never seen an example of this, one of the very last models produced by the old Lancia company, before its takeover in 1969 and its gradual integration into the Fiat model line-up.
Lancias are best known for their small-engined, fine-handling and perky small cars – like the Aprilia and the Fulvia – rather than commodious touring cars. The vintage Lambdas remain some of the most popular and useable of 1920s touring cars, and although physically large, they were never over-endowed with power from their 2.1 to 2.5 litre V4 engines. The vast Edwardian 5-litre four-cylinder Kappa came to Australia in small numbers and several survive, while the 1930s V8 Astura was something of a rarity even in its heyday.
The Flaminia grew from the novel and extremely competent Aurelia, much of which was designed by the great Italian master designer, Vittorio Jano, and which was introduced in 1950. Wearing streamlined bodywork like no previous Lancia, the Aurelia was technically interesting and an extraordinarily competent road car. Jano overcame the balance problems thought to be inherent in V6 engines, so that the Aurelia was powered by the first production engine of this type. (Another great designer – Hans Ledwinka – designed, built and produced a 5-litre overhead camshaft V6 engine for the Nesselsdorf Type 10 car in 1914, but since none survives, let's not argue that the Aurelia was indeed the first V6 produced in any numbers). It was also fitted with a rear-mounted gearbox, inboard rear (drum) brakes, and latterly included De Dion independent rear suspension.
Commencing with a capacity of 1.754 cc, the Aurelia's engine was enlarged by its 3rd series GT in 1953 to 2.451 cc, but was incapable of being enlarged any further. Although the performance of the Berlinas and the svelte B20 coupe was, for their day, exceptionally good, by the mid-1950s they were being outstripped by cars costing lots less.
Enter Professor Antonio Fessia in 1955, a brilliant theoretician with fixed ideas about fast touring cars, and little patience for competition. His engagement, by Lancia supremo and concrete magnate Carlo Pesenti, may have been assured by his lack of interest in racing, since it was principally the crippling cost of funding Gianni Lancia's 1950s racing program which lost the company to its founding family.
Fessia clashed early with Jano, who departed giving him free rein to recreate Lancia's in new moulds. His first task was to uprate the tiny Appia 1.100 cc models, giving them extra power and new style. He then turned his attention to a replacement for the ageing Aurelia. The first prototypes of what was to become the "Flaminia" were in fact built on Aurelia floor-pans, Pininfarina producing a number of "Floride" concept cars. All used the V6 engine and all had four doors, although those of the last prototype – Floride II – had no exterior handles to open its rear-hinged doors. Battista Pininfarina famously said that he would like to drive to Paradise in this particular car, which survives as one of his most beautiful designs.
Fessia knew that a new engine capable of enlargement and development was needed, allowing a long model life to amortise its considerable development costs. Adhering to the proven formula established by the Aurelia, he designed a completely new pushrod ohv V6 similar to the last Aurelia, its 2.458cc capacity having potential for enlargement to 3-litres. Also retained was the rear-mounted "transaxle", but in the Flaminia for the first time bottom gear was synchronised. The gearlever was mounted on the steering column. Every transmission was tested at simulated road speeds on a specially constructed rig, and any that were not completely silent in all ratios were rejected. Inboard rear braking was, for the first 500 cars, by assisted drums, changing from that time to all-round assisted Dunlop discs which completed the model's life.
As in the Aurelia, the engine drove a small-section tailshaft at engine speed to the rear axle, where clutch and flywheel were attached directly to the transmission. The "transaxle" was suspended by a De Dion pattern rear end, with Panhard rod for location and long semi-elliptic springs for ride.
At the front, the "sliding pillar" suspension used on every Lancia from the Lambda onward was finally abandoned. While for its time this system of sprung and oil-damped pillars provided steering and handling equal to the very best, the system had severe limitations, and was difficult and expensive to repair. After WW2, it was challenged by new suspension designs which provided outstanding front wheel control, while being simple and comparatively cheap to manufacture. The Aurelia, which used sliding pillars, handled beautifully when all was in new condition, but the cars almost invariably developed brake judder and excessive wheel movement in old age.
Replacing the pillars was the more common system of coil springs and unequal length wishbones, but for the Flaminia these were built to the highest engineering standards. Examine Flaminia wishbones closely, and you would see the faint jaw marks of a hardness testing machine – used for ensuring that every production front subframe was ready for attachment to another car. De Carbon hydraulic dampers were fitted front and rear.
The new Flaminia stunned visitors to the 38th Turin Salon of April, 1956. Pininfarina's "Floride" design was, with minor modifications, transferred faithfully for the first of the Flaminia Berlinas. This was a lavish car by Italian standards, large and impressive. Its split front seat and vast rear could with great comfort accommodate 5 and occasionally 6 adults, who could carry enough luggages in the cavernous luggage locker for a week on the Amalfi coast. Interior fittings included press buttons to operate the vacuum-driven opening/closing mechanism for the rear quarter windows – serving as air extractors – and on the first series cars there were internal rear windscreen wipers to clear condensation. While there was American influence on the Berlina's styling (especially around the front windscreen), it was restrained and elegant, converting without difficulty into lengthened State landaulets and convertibles for the Italian Government. That first Berlina could reach exactly 100 mph from its 102 bhp @ 4.600 rpm, fed by a Solex 35 PAAI dual choke carburettor.
Barely two years after the car's introduction, Pininfarina was supplied with shortened Flaminia floor pans (2.750 mm against 2.870 mm for the Berlina), on which he built the Coupe almost unchanged from his lovely "Floride II" design. In production form having only two doors, the Coupé remained a large car, allowing plenty of space for four passengers in its usually leather-clad interior. Trim for both the Berlina and the Coupe was offered with vinyl or cloth as standard, but most were sold with hide seat facings. Lighter than the saloon, and producing 119 bhp @ 5.100 thanks to a higher compression ratio and (in "3B" form) a Solex multi-choke C35 P3-1 carburettor, the 2.5 litre Coupe would reach 106 mph on test.
Later in that year, coachbuilders Carrozzeria Touring and Zagato got into the act, exhibiting at the Milan Auto Show for 1959 two lovely new alloy coupes on even shorter floor pans (2.520mm) supplied by the Works. The Touring design followed many of the cues from the beguiling Aston Martin DB4 (introduced in 1958), and the Maserati 3500S (launched in 1959), with clean and long flanks, and with minimal decoration beyond bonnet-mounted air intakes which seem to have enjoyed a vogue, even if they were not entirely functional. Touring followed the coupe (dubbed the Flaminia GT) with a 2-door 4-seat convertible, which was mechanically identical. Perhaps responding to complaints that such large cars as the GT offered only two seats, Touring in 1963 first offered its "GTL" – fundamentally similar in design to the GT, but built on a 2.600 mm floor pan, allowing (just) enough space for two occasional rear seats; rooflines and rear wing lines were modified giving the GTL a distinctive profile, but the variant was only readily identifiable by the chrome trim strip on each door-sill.
The Touring cars initially offered an uprated version of the 2.5 litre engine, using a Solex C40PAAI carb and producing 119 bhp @ 5.100 rpm, then the "3C" variant introduced 3 downdraught twin-choke Weber 35 mm carbs, producing 140 bhp @ 5.600 rpm. From 1962, they were fitted with 2.8 litre versions of the V6 engine, still with triple 35 mm Webers, but now producing 146 bhp @ 5.400 rpm.
Ironically and sadly, the dwindling number of Flaminia coupes and convertibles probably contributed to the demise of the old Touring firm, which had invested heavily in new production-line methods of producing specialist bodies, after always hand-forming alloy panels for cars ranging from the fabulous Alfa-Romeo 8C2300 from the 1930s, to the Fiat Ballila 508C Mille Miglia cars. As sales for cars like Lancias and Maseratis (built alongside each other in the Milan works) declined, Touring tried to stave off bankruptcy by building Rootes group cars, the Hillman Super Minx and the Sunbeam Alpine roadster. They also designed a new alloy-bodied Sunbeam "Venezia" coupe, which was however never built. But even these ventures could not keep the doors open beyond January 1967.
Zagato fared rather better, but by farming out the construction of their Sport Flaminia to six other unnamed coachbuilders around Turin – some good, some not so good – the build quality of the Zagato-badged cars was therefore always highly variable. Designed to be the lightest and fastest of the Flaminia range, the Sport enjoyed the same engine development as the Touring-built cars, adding a final version – the "Super Sport" in 1964, at which time larger 40 mm Weber carburettors gave the car a maximum speed of 131 mph. There was also at least one competition version built, an unhappy-looking car which on test by "Steady" Barker repeatedly cooked its electrics, but was reputedly capable of 140 mph when the wiring held together.
All of the cars bodied by Touring and Zagato were supplied with leather seat facings, with full leather interiors available to order (and considerable extra cost).
In the best Italian coach building traditions, there were "specials" and "one-offs", intended to attract headline attention to their builders. Pininfarina built a very lovely Special coupe for the Turin Motor Show of 1963 (the car survives in the US); Boneschi produced a convertible which had evidently forgotten that the "dollar grin" had faded a decade earlier; US-stylist and Studebaker body designer Raymond Loewy produced the indescribable "Loraymo" coupe with no bumpers to protect the appendage-type front sidelamps dangling beneath the bodywork; Bertone built his angular "Marica" prototype when Ford was being wooed to purchase the Lancia company; while Torinese builder Viotti (who had since WW2 specialised in estate car bodies on everything from Fiat 1100 to Lancia Aurelia chassis) built at least two stylish ambulances, one of which was recently offered for sale on Ebay internet auctions.
Impressions by road testers and owners of Flaminias when new were almost wholly enthusiastic. Road testers found the cars to be beautifully engineered, their tireless engines and seven-league transmissions giving them enormous long-distance high-speed touring capabilities – just what the Doctor ordered. Oft repeated in published tests was the impression that the engines just got smoother and sweeter the harder they were driven, while even the limitations of Michelin X tyres failed to cool the ardour of press-on drivers. With almost exactly 50/50 weight distribution from front to rear, cornering was undramatic even at the limits of adhesion, and the cars' steering (fitted with an hydraulic damper) always rated high praise.
Gearing was lengthened with the introduction of the 2.8 litre engine, giving maxima in the indirects adequate for storming Alpine passes or safe high speed overtaking manoeuvres. The assisted disc brakes, always lauded for their powerful and progressive retardation, complemented the fine steering, the viceless handling and the remarkably supple ride making for an exhilarating driving experience. All Flaminias were capable, from the outset, of maximum speeds in excess of 100 mph. The heaviest and therefore understandably the slowest was the 2.5 litre engined Berlina, taking a whole 15.6 secs to reach 60 mph. Its overall performance was much improved by the enlargement of the engine to 2.8 litres (from 1962) together with revised gear ratios, which lifted maximum power from 112 to 129 bhp, and top speed to 106 mph.
Second heaviest – the Pininfarina coupe – in 2.5 litre form produced 119 bhp and would achieve 106 mph, these figures improving to 140 bhp and 110 mph respectively with the larger engine. Built on much shorter floorpans, the Touring- and Zagato-bodied cars were comfortably the fastest of the range. The small-engined Touring 3C GT and convertible produced 140 bhp @ 5.600 rpm, and would reach 118 mph; the 2.8 litre cars produced 146 bhp @ 5.400 rpm, and on test reached 122 mph. The taller gearing allowed the later GT to reach almost 90 mph in third – a magnificent gear for long distance touring through traffic or twisty roads.
The Zagato "Sport" first produced 140 bhp @ 5.600 rpm, and achieved a maximum of 124 mph, these figures improving in the ultimate "Super Sport" version (from 1964) to 148 bhp @ 5.600 rpm, and 130 mph respectively.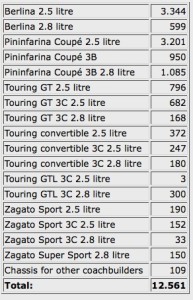 Despite a model run of 10 years, even the Works-built Berlina never achieved a build rate of better than four per day, and only 12.561 Lancias ever wore the Flaminia script. Production figures were as follows (with allowances for some instances of chaotic record-keeping, especially for those chassis supplied to outside coachbuilders:
Last cars to be built were the Berlinas, which left the Turin Lancia works in 1970. By that time, production of all other versions had ceased at various times, even though some new cars remained on dealers' floors for a year and sometimes longer.
Survivors remain, in some cases almost 50 years after their production, satisfyingly fast and competent and comfortable cars of enormous character. Neglected for many years by the enthusiast market, the model is now starting to attract renewed attention as a highly desirable classic car, especially but not only in its coachbuilt forms. In October of last year (2003), a late model Zagato-bodied Sport was sold at auction in England for £50,100, bettering £50K for the first time.
Australia's climate has been as kind to 1960s Lancias as it has been to so many cars which have largely disappeared from English and European roads, and possibly the finest remaining examples of the Flaminia are to be found in this country. Always very very expensive, the cars attracted buyers who were knowledgeable and well-heeled, appreciating them for their qualities, forgiving their foibles, and in many instances keeping them for very long times. There are few cars of the Flaminias' age that offer the mix of attractions of these superlative cars, and fewer still which merit comparison with fine cars of today.
Bruce Lindsay /3.2014