8 Jul, 2009
Stuttgart/Zuffenhausen – wie präsentiert sich eine Welt-Automobilmarke? Höchstwertige Fahrzeuge erfordern einen entsprechenden Rahmen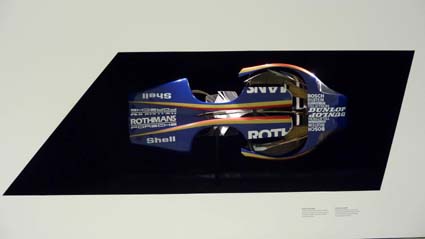 Or will we see a new Lancia Museum in Torino?
Chances we will see a proper Lancia Museum in Turin seem bleak . Instead we might have the opportunity to bid for one of the cars from the collection of Fiat/Lancia in an international auction soon?
There are few excellent classic car exhibitions in museums. On the occasion of 90 years of Lancia the exhibition "Lancia L'armonia e l' invenzione" was a very, very good one shown in the Museo Carlo Biscaretti di Ruffia in Turin. Another outstandingly good show in a museum was "Mitomacchina", a multi-marque event on the evolution of automotive design. This show took place in the new Botta designed museum in Rovereto, Trento, two or three years ago.
However, for permanent shows we have to look towards other marques – as there are some fascinating new museums open now in Europe.
Very close to the recently opened Mercedes Museum is the new Porsche Museum in Zuffenhausen.
Designed by Austrian architects Delugan Meissl, it certainly adds a new piece to the general discourse on contemporary museum architecture. From the outside one thinks the building sits on two or three pillasters,  flying over the ground. It reminded me a bit of Zaha Hadid vocabulary. However, in the inside it is a space that works in various ways. Most important of all it succeeds in representing the image of Porsche being a small, exquisite, successful sports car producer. No signs of showing off. Porsche = following the path of winning races over decades with full dedication. The sports cars seem to be the obvious outcome of this, providing "democratic" access for clients to these supercars.
The Porsche Museum – worth a visit
All the museum exhibits are fully roadworthy and are taken to various event around the world continuously. A lot of the cars had stickers on them, like Goodwood 2006 or 2009. They are also very accessible, with no barriers around them, sometimes the windows open so you can smell the interiors. Obviously, they are not afraid that some tourists will hit their camera on the bdy of a 917, which will happen at some point.
The Porsche Museum is surely a good example for the FIAT people just in case they change their mind about Lancia and give it's collection more than a storage shed. There are few marques that provide such a strong heritage as well as variety of topics of interest to the public.
J.E.W. / July 2009