27 Jan, 2014
Bruce Lindsay's Beitrag zur Lancia-Typengeschichte – Die Lancia Flavia

Der 8. Beitrag von Bruce Lindsay zur technischen Geschichte von Lancia. Über die Lancia Flavia und ihre Derivate. Neue Welten in mehreren Beziehungen: Frontantrieb, Boxermotoren und beginnende Gleichteilstrategie in Richtung Fulvia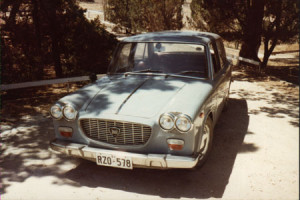 The market expresses its disapproval of particular motor cars by voting with its feet, and walking into the showrooms selling competing makes. Some truly awful cars have recently merited their own books, where their shortcomings are described in excruciating detail. Tony Davis's amusing book "Lemons", for example, is essential reading for anybody interested in acquiring an oddball car, but who may believe its vendor's hype.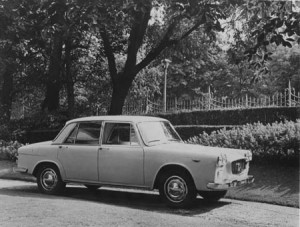 The "classic" car movement has tended to move away from discriminating between the "good, the bad and the ugly", instead anointing some of the lemons with an unearned prestige by virtue of their age alone. Conversely, some very fine cars remain undiscovered – especially in countries where, during the 1960s and 1970s, punitive import taxes meant that they were available in such tiny numbers that they were beyond the experience of even the cognoscenti. The Lancia Flavia may be just such a car.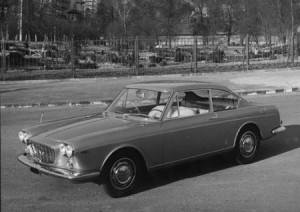 Italy's first front-wheel drive production saloon, the Flavia was produced from 1960 to 1974 – 102.732 were sold. It was offered in 34 subtly different guises, including three engine sizes (1.500, 1.800 and 2.000 cc) and seven body styles – three saloons, three coupes and a convertible. In addition there were coachbuilders' "one-offs", including a 7-passenger limousine by Lombardi, and a Fulvia-like coupe by Zagato which was markedly more handsome than their Lancia Flavia Sport. Their quality of construction was superior to just about any other small- to medium-sized car of the day.
Flavias were very expensive cars. In Australia in 1962, a 1.8 litre Flavia saloon cost £ 2.195, when a Holden Special was yours for £ 1.110. Add barely £ 200 to the Lancia Flavia's price for a Jaguar 2.4 litre Mark II saloon, or just £ 35 for a Rover 100. You may have considered a Studebaker Lark at £ 1.645, a Ford V8 Fairlane for £ 2 less than the Flavia, or perhaps Chrysler's Royal V8 for £ 1.879.
Amongst European models, the 6-cylinder Fiat 2300 was yours for £ 1.697, the celebrated Citroen ID19 for £ 1.570, or the rugged Peugeot 403 for £ 1.218.
To appreciate the inbuilt qualities of the Lancia Flavia, you must look beyond its decidedly angular exterior, and try to forget about that price-tag. Its design was innovative and clever. Its designer – Antonio Fessia – was a professor of mechanical engineering, and a long-time enthusiast for front-wheel driven cars. For the Lancia Flavia, he calculated that, to enjoy excellent traction and to avoid torque-steer, the new car's weight must be distributed so that 62% was placed above the driven front wheels.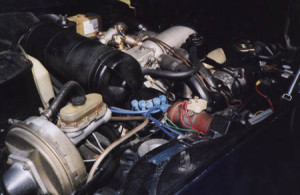 Such a figure flew in the face of prevailing wisdom which taught that 50/50 front/rear weight distribution produced optimal roadholding and handling. The engine's location forward of the front axle line largely dictated the car's body design, which was initially awkward, but was later much refined.
The engine's design provided the low roll centre which was also part of Fessia's plan. Built of alloy (as was the transmission), the horizontally-opposed four cylinder engine used two block-mounted camshafts, with short pushrods operating overhead valves. Its very strong and short crankshaft sat low in the frame, and its connecting rod bearings could be replaced by removing an inspection panel on the top of the motor. It breathed through long alloy induction manifolds, fed by a single twin-choke Solex carburettor.
Significantly oversquare at 82 X 71 mm bore/stroke, the first 1.500 cc version produced 78 DIN bhp @ 5.200 rpm. Although it would almost reach 100 mph, it was regarded as breathless, and Nardi quickly offered a 1.700 cc upgrade kit. Lancia produced a twin carb 1.500 motor, which was used for the first series of the pretty Pininfarina coupe, and was retained throughout the model life of the Vignale convertible. Its power gain was minimal, its performance fussy. Fessia responded to calls for more power and torque with the 92 bhp 1.800 cc single carb motor, offered as an option in 1965, then standardised from 1967, when the saloon's body was substantially revised.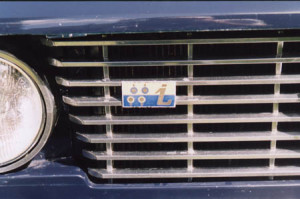 From 1964, a further option was Kugelfischer mechanical fuel injection, which lifted power to 102 bhp @ 5200 rpm. From 1968 a 2-litre engine was offered, supplying 114 bhp @ 5.400 rpm when fitted with a Solex carb, or 126 bhp @ 5.600 rpm when injected. The final version, produced from 1970 to 1974, gave just one more bhp when using the Solex carb, but those engines fitted with the new Bosch D-Jetronic indirect fuel injection system delivered 125 bhp @ 5.800 rpm.
Flavias pulled high gears which were capable – in the case of the 1.800 cc coupe – of running to 80 mph in third, and to 50 mph in second. The quirky Lancia Flavia Zagato Sport – the only 1.800 cc car to use twin carbs – reached 115 mph in top and 80+ mph in third. The last of the 2.000 cc berlinas gave 115 mph in top (fifth), and just on 100 mph in fourth, 72 mph in third.
The factory-built berlina was always a car of modest exterior dimensions which made excellent use of its fwd configuration by offering immense interior space – including large and comfortable Reutter-style reclining front seats from 1967, while the luggage boot was simply cavernous, giving 10.6 cubic feet of unobstructed space.
The dynamic qualities of any Lancia Flavia are its most endearing features – you simply must drive one to appreciate them. In their 1964 road test of the 1.800 cc Lancia Flavia Coupè, "Motor" said "It is a fast Grand Tourer for the keen driver, at its best on long journeys when its tireless 100 mph cruising can be appreciated. Driver comfort and the level ride are outstanding; and the handling on twisty roads is exemplary". Since this car's maximum speed was 109 mph, the long-standing high speed touring capabilities of Lancias since the Lambda model were comfortably maintained. Steering could be heavy at parking speeds, but varied according to the tyres used. From 1967, hydraulically-assisted and beautifully weighted power steering was available first as optional equipment, later as standard. Fessia's theoretically ideal weight distribution proved capable of precise steering without power-induced torque steer, so that new drivers were frequently surprised that the cars were front-wheel driven.
Thanks to the careful isolation of its entire power train, riding in any Lancia Flavia is both quiet and free from vibration. Once a cruising speed is attained, the cars seem to relish fast touring over long distances, combining sure-footed handling and excellent braking. Like Lancias of old, the driver simply need not slow for most corners, and the free-spinning engine devours high revs with such ease, that even long drives are completed without apparent effort.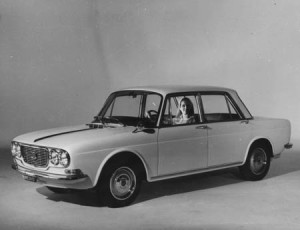 The cars are remarkably long-lived, requiring little specialist attention over high mileages. Sadly Flavias were not immune to the panel rust problems which afflicted all Italian cars of the 60s and 70s, when by Government decree they used poor quality reconstituted scrap steel traded with their political allies in Eastern Europe.
With a catalogue of such attributes, it is interesting to ponder why these fine cars attract such little interest when classic cars are discussed or considered for purchase. At least some Lancia purists are happy to dismiss the model for reasons that are contradictory; on the one hand, they shun models which were "evolutionary" rather than "revolutionary", while on the other they claim plaudits for Lancia "traditions" (like sliding pillar front suspension, which the Lancia Flavia abandoned).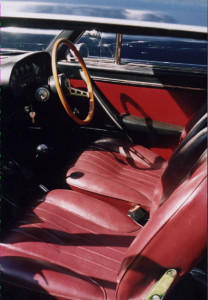 There is simply no argument against the Flavia's "revolutionary" design. It was the first Lancia to use an opposed four-cylinder engine; the first to use front suspension by transverse leaf spring and wishbones; and the very first Italian production car to employ front-wheel drive. Yet it retained the Lancia "traditions" of outstanding riding, handling and braking qualities, and such under-stressing of the drive-train that average speeds very close to its maximum could be effortlessly maintained.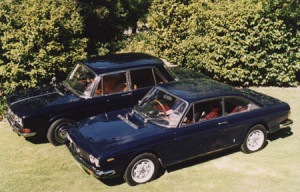 A Lancia Flavia in good condition can comfortably keep pace with modern traffic, returning between 30 mpg and 40 mpg by the imperial measure, and giving reliable service. They are beautifully built, and the rust bogey can be controlled with use of the many good inhibitors now available. Their prices – when they come onto the market – are invariably reasonable when compared with some of their demonstrably less competent contemporaries. The Lancia Flavia in any of its forms… if you can find one… should be added to the shopping list of any classic car enthusiast.
(Prices, for the Lancia Flavia and its contemporaries used in this article, are quoted from the "New Car Prices" in the August, 1962 edition of "Wheels" magazine).
Here are the views of three owners of Lancia Flavia models. These cars are in regular use almost 40 years after they were built.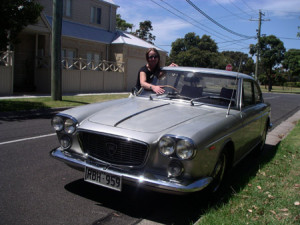 Name:   Penelope Southgate
Occupation:   Production Designer for film and television
Flavia:   1965 Pininfarina 1.8 coupe
Owned since: 1997 when I finally prised it away from my father
What I like most about this car: It is so classically stylish, but its beauty is more than skin deep. As it is my only car, I drive it every day. It has been so reliable both around the city and on those long cruising country drives. I just can't help grinning every time I get in the car.
What I like least about this car: Maybe it's the constant harassment from strangers when they see the car, asking questions, wanting to look inside or under the bonnet, trying to get me to sell it or offering me free meals to simply to park outside their restaurant.
Do you agree that the Flavia is under-appreciated amongst classic cars?: It probably is, but I don't really care. I appreciate the Flavia and if others don't it is their loss not mine.
Occupation: Retired TV technician
Flavia:   1967 Lancia Flavia Milleotto
Owned since: 1989, when I purchased the car for my Daughter Penni who wanted something a little bit different, we surely got that right.
What I like most about this car: The very responsive 1.8 litre boxer engine, fast, extremely smooth and tractable for an over square engine, it will pull away willingly without fuss from 30kph in top gear. The 4 wheel disc brakes with servo are superb for its era. It is also very comfortable even by modern standards.
What I like least about this car: Probably the heavy steering whilst parking. It gives the impression that the steering mechanism is under stress when turning from lock to lock, however, it is fine when the car is up and running.
Do you agree that the Flavia is under-appreciated amongst classic cars?: Yes probably because of ignorance and fear of something being different. Our car is now 38 years old oh! What a treat they would have been new!
Name:   Clark Rees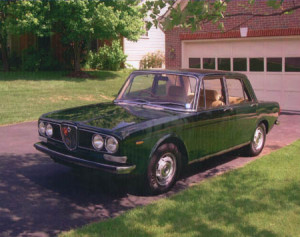 Occupation:   Aircraft Engineer
Flavia:   2000 Coupe with Kugelfischer Fuel Injection
Owned since:   6 months
What I like most about this car: It's beautiful Italian design from Pininfarina. It is extremely well finished and has attention to detail both mechanically and aesthetically. The engine is responsive and has a smoothness which belies its power.
What I like least about this car: The rarity of the fuel injection components and also being a right hand drive version makes it also hard to get parts.
Do you agree that the Flavia is under-appreciated amongst classic cars?: It is under-appreciated. How often do people think you are referring to a Mitsubishi Lancer? The construction and finish quality is unsurpassed.
Bruce Lindsay / 1.2014